Who We Are
The mission of the Crowsnest/Pincher Creek Landfill Association is to provide our members with a cost effective, sustainable, and environmentally compliant waste management facility promoting clean, green, healthy communities.
Our environmental mandate is to operate as a Class ll landfill for the disposal of municipal solid wastes and non-hazardous industrial waste. We pursue our moral, ethical and environmental responsibilities through the provision of collection sites for specified recyclable materials and certain reclaimable hazardous recyclables.
Board of Directors Minutes
Click here for a full list of board minutes.
Our History
The Sanitary Landfill was developed in 1976 as the first regional landfill in Alberta and became the model for future regional landfill developments. Operating procedures developed at this site were embraced by other landfills not only in Alberta but in other Provinces as well. The initial engineering design and operations plan were based on the best available technology of the era. The Alberta Provincial Board of Health issued the permit for Phase 1 of the engineering design. As Phase 1 of the design approached capacity, an updated design was prepared.
Alberta Environmental Protection approved a Stanley Environmental engineering plan for a "vertical expansion" in July of 1997, subsequently amended in December of 2006. The final grade of this expansion will be 20m above the 1976 design elevations and provides for an additional 15 to 19 years of landfill capacity.
The Crowsnest/Pincher Creek (CNPC) Regional Landfill is presently owned and operated by the Crowsnest/Pincher Creek Landfill Association. A manager hired by a Board of Directors comprised of Councillors representing the communities it serves now administers the Regional Landfill. Specifically these communities include the Town of Pincher Creek, Village of Cowley, Municipal District of Pincher Creek #9 and the Municipality of Crowsnest Pass.
Who We Serve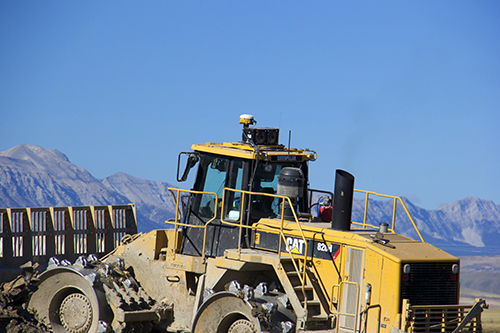 The regional landfill serves the geographical area occupied by our member communities, specifically, the Town of Pincher Creek, Village of Cowley, Municipal District of Pincher Creek #9 and the Municipality of Crowsnest Pass. A limited quantity of waste from outside this area is also accepted.
Location
The regional landfill occupies 6.6 hectares (16 acres) of land rurally located approximately 3 km southwest of the Village of Cowley. Primary access is gained via a Municipality of Pincher Creek #9 road originating off of Highway 3 just East of the Hamlet of Lundbreck.
Approach # 7121
NW ¼ Section 8
Township 7
Range Road 1- W5